Have you ever heard yourself saying; "the world is this a dark place" or "there is so much bad happening in the world..." The evidence is easy to find- take a quick look at national news or crime stats and you will see there are plenty of awful things happening. In philosophy when I studied the concept of evil- it was easy to get discouraged about the fate of the world and humanity. Part of why I think I find fault in the world is because I see it in myself. I know I have many shortcomings- I am sometimes selfish, self-pitying, critical of others. I sometimes prioritize behaviors that are not healthy or god-seeking. I have empathy for how people can treat one another poorly or be overcome by their own agendas.
Yet I think it is a mistake to write off the world even with all the negative. I think it is easy to react by saying- "well really what can I do? The difference I would make would be so small in the grand scheme of things." In response to thoughts like this I think the below verse is essential:
8 Above all, love each other deeply, because love covers over a multitude of sins.
9 Offer hospitality to one another without grumbling.
10 Each of you should use whatever gift you have received to serve others, as faithful stewards of God's grace in its various forms.
11 If anyone speaks, they should do so as done who speaks the very words of God. If anyone serves, they should do so with the strength God provides, so that in all things God may be praised through Jesus Christ. To him be the glory and the power for ever and ever. Amen. - Peter 5:8-11
The Blind Side is a fantastic movie about someone upper class
really being unreasonable and making all the difference in
the world with her adopted son
This verse when I think truly absorbed is inspiring and terrifying at the same time. It claims every word we utter, every action we take is the difference the world needs- is the very stuff that generates the good in the world. What would the world be like if you took responsibility for generating good, bringing good to the world? If you related to yourself as the one who needs to make the difference?
One of my exemplars who I think really practiced this was mother Teresa. In reading her writing regularly, I have found not only did she take responsibility for the difference she could make every day, in some of the dirtiest and impoverished slums in the world, but she also encouraged others to make the difference they could in their own communities. Here are two of her quotes that I find pertinent to this discussion of doing good:
" Spread love everywhere you go. Let no one ever come to you without leaving happier.
"
In light of these collections of thoughts- the main message here is that generating good in the world is up to each of us individually. It is our responsibility- my responsibility to make the difference. How often are we willing to look at our relationship to others, to our community and the world this way?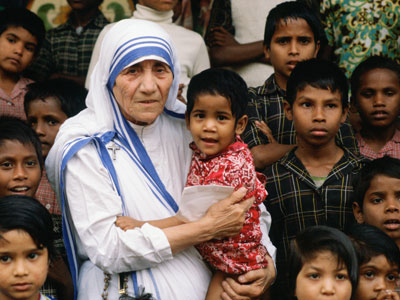 What can each of us do this week to generate genuine good? Here are some thoughts on behaviors/actions that could make the difference:
-call someone you have a grudge against and forgive them
-rearrange your schedule to serve someone you love or a stranger to fulfill a need
-quiet your mind and spend some time generously listening to those who you talk to every day
-thank someone for the difference they make in your life
-smile and be generous in action and conversation to the strangers you run into day to day
-apologize to someone for a way you have wronged them and make amends
-make someone's day
-Tell someone that you don't usually that you love them

These are just a couple ideas... maybe readers can suggest some other habits/actions to contribute to this list?